Websters Cycles Leicester for Brompton Folding Bikes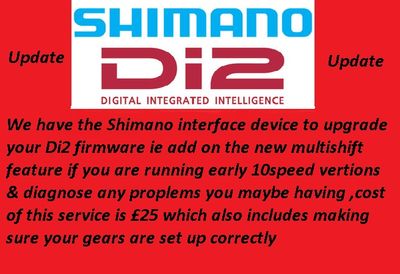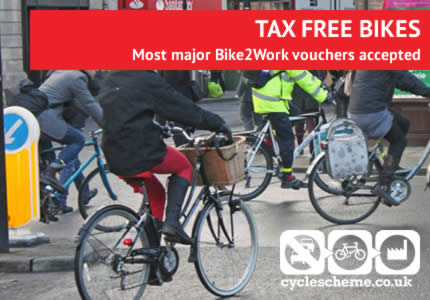 PLEASE NOTE
THANK YOU TO ALL MY CUSTOMERS FOR YOUR PATIENCE WHILE I WAS AWAY ON HOLIDAY WE HAVE NOW RETURNED BACK TO NORMAL WITH A QUICK DESPATCH TIME USUALLY LESS THAN 48HRS
Contrary to Google, Websters Cycles in NOT "Permanently Closed"
Websters is very much still trading. Only our high street retail premises have closed.
BUSINESS AS USUAL ONLINE
Locally, if you are looking for a Brompton Folding Bike then check out our stock and drop us an email if you need advice, or maybe to test ride a Brompton folding bike.
The Websters Cycles shop on Leicester Road is now closed.
For the time being, we continue to operate Mail Order Only, with future plans to be announced.
We continue with the Brompton range of folding bikes and accessories, plus we have a huge range of parts and accessories for all cyclists with great prices and quick delivery.
Brompton Folding Bikes, parts & accessories
We are one of the largest dealers in the UK for this iconic British made folding bike with stock to rival anybody.
We also stock almost the entire Brompton luggage range and carry a large volume of spare parts and accessories for Brompton
If you need your Brompton folding bike serviced or repairs then drop us an email or give us a ring on 07980125205 (Martin)
Brompton folding cycles are delivered to you within a couple of days, having undergone a full pre-delivery setup and inspection. Just remove it from its box, unfold and ride!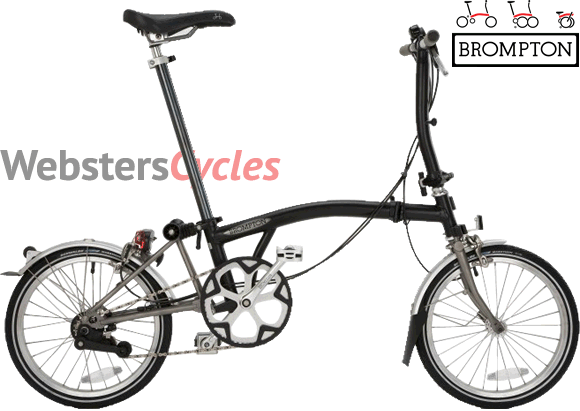 SALE - SALE - SALE - SALE - SALE - SALE - SALE - SALE - SALE - SALE - SALE - SALE - SALE - SALE - SALE
( Please note sale prices are not available in conjunction with cyclescheme. Cyclescheme and other Cycle-to-work voucher sales will be at full advertised RRP )
Looking for the ideal bike for use in the city or for traveling, then consider a Brompton. This iconic British made brand maybe just what you are looking for. Great to ride yet folds up small enough for hopping onto trains & buses or storing where space is an issue, even under your work desk.
Current Standard Brompton Stock - As at 20/9/2023
ELECTRIC BROMPTONS
P-LINE Urban ELECTRIC Mid M4L £3695 SALE NOW £3450-Last one !
C-Line M6L Electric Gloss Black £2995 SALE NOW £2799- Last One !


BROMPTON LIGHTWEIGHTS
P-LINE = Lightweight with the frame featuring Titanium Forks & Rear Triangle as well as other lighter weight saving componentry.
CHECK OUT THE NEW SEASONAL COLOUR EMERALD GREEN


P-Line M4L Emerald Green/Black Ti £2380 SALE NOW £2260
( Just add the Advance roller frame if you want the above up grading to a R Model )
P-Line -M4R Midnight Grey/Black Ti £2360 SALE NOW £2190
P-Line -S4R Midnight Grey/Black Ti £2360 SALE NOW £2190
P-Line-S4R Midnight Black.Black Ti £2360 SALE NOW £2190
BROMPTON C-LINE BIKES
2023 C-Line Black Edition M6R Black £1495 SALE NOW £1395
2023 C-Line Black Edition M6R Racing Green £1495 SALE NOW £1395
2023 C-Line Black Edition M6R Matcha Green £1495 SALE NOW £1395
2023 C-Line Black Edition M6R House Red £1495 SALE NOW £1395
2023 C-Line Black Edition M6R Cloud Blue £1495 SALE NOW £1395
2023 C-Line Black Edition H6R Matcha Green £1495 SALE NOW £1395
2023 C-Line Black Edition S6R Matcha Green £1495 SALE NOW £1395

2023 C-Line Black Edition M6L Black £1415
2023 C-Line Black Edition M6L Racing Green £1415 SALE NOW £1315
2023 C-Line Black Edition M6L House Red £1415
2023 C-Line Black Edition M6L Cloud Blue £1415
2023 C-Line Black Edition M6L Match Green £1415
2023 C-Line Black Edition H6L Black £1415
2023 C-Line Black Edition S6L Black £1415
2023 C-Line Black Edition S6L Matcha Green/Black Rear £1415

All L Models (just Mudguards) can have a rack fitted for a extra £115
Current Brompton Folding Bikes Stock Click Here
Brompton Demos can be arranged by appointment email info@mailordercycles.com
Brompton Electric Demo 6 Speed , Standard Demo M6L,S6L