Getting In Touch
when you ring or enter the store you'll likely meet or speak to one of 3 people,Martin,Matt or Ashley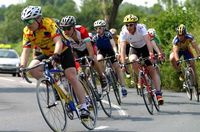 Martin's the boss, so any emails will be answered by him. You can talk to him about most things to do with bikes and he pretty much knows whats in stock straight from his head. He has been cycling for, well lets just say a very long time. He's now reached the dreaded vets status but is enjoying racing again (well a little )against people his own age, and with some success! as in '07 he won the National masters points race championship (40-44) on the track, and came sixth in the world championships that year.He has now had another couple of seasons off with little racing but the new velodrome at Derby has inspired him again & recently (Nov 2015 )he teamed up with two other local vets and track champions from the 80's to win the team pursuit at the LVRC vets national track championships at Newport .
Matt is an all rounder, with experience in road & MTB riding. He likes to keep bang up to date with the latest developments in the industry, so will be able to help with most questions.
Please feel free to contact us here. You can do so via any of the traditional methods, or please

check out our Facebook Page

for more photos & info.