About Us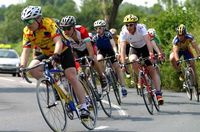 Martin, still having the odd go at racing !
Run by cyclists, for cyclists
Websters Cycles was started in 1992 by brothers Darryl & Martin Webster, both of whom were former international riders. Darryl had been a multi national champion on road & track winning 20 national titles & competing in world & olympic games.Martin was more of a team man & had been national champion in the Team pursuit & team time trial .In 1992 Darryl had just finished a pro contract with the spanish Teka team & Martin had been laid off from his carpentry job, it was the kick up the ass they both needed to start something that had often been talked about...
Getting Started...
Being a new shop can often be difficult to get some of the more well known brands, particulary cycles but we managed to team up with KHS, an American brand new to the uk. With their bikes getting rave reviews they soon helped to get us established.. In 92/93 KHS was one of THE bikes to have, but after a couple of years their popularity dwindled to the point that they stopped being imported. However they had served us well, with other brands now knocking on our door to take their bikes...
SCOTT & SPECIALIZED come on board
1995-2010 At the end of 95 Darryl & Martin decided to seperate with Martin becoming the sole owner, this coincided with a move to larger premises on London road and the taking on of Specialized bikes, which today are still our main brand of bikes.!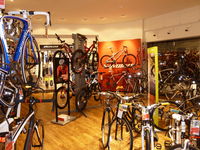 New Store
2010-Present By 2008 i had become fed up with the London Rd store & the limitations it presented.I decided i wanted a bigger store with ease of parking being a priority. I managed to find a place on Leicester rd & was lucky to sign a agreement without it ever going to open market.We had by now gone it alone with the single brand Specialized so with the new store we decided to take it further & sign up to become a SPECIALIZED STORE IN STORE.This enables us to use their expertize in store design & layout to create a new store that is at the cutting edge of retail design & display to give you our customers a better shopping experience.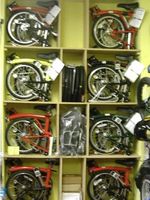 Need a Brompton?!
We don't just sell road
Quite the contrary , we stock a large range of both road and mountain bikes and are the 't main agents for the highly acclaimed and british built BROMPTON folding bikes
& we don't just sell bikes
No, we repair them as well. Any make, any model. Need a wheel rebuild....fine, we pride ourselves on the quality of our wheelbuilding service for which we have a great reputation. Need a fork service, no problem there's not many our mechanic hasn't done. and unlike some stores we aim for a very fast turn around for our repairs, often same day but mostly within 48hrs. We once rang a customer up, half an hour after he ordered a new wheel to say it was ready.!